Yovok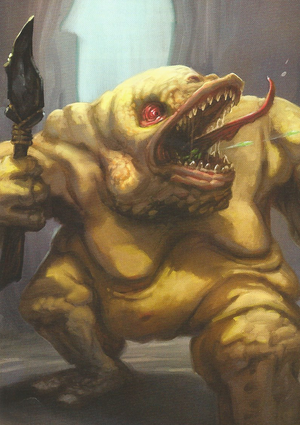 Yovoki (singular: Yovok) are brutish, yellowish abhumans that hunt in groups.
The horrid yovoki are short, squat abhumans with jaundiced skin draped loosely over their flabby, hairless bodies. They hunt and kill for mere pleasure, although they happily eat whatever they kill as well. In fact, they eat constantly and seem able to digest almost anything.
Yovoki are too disordered to have a strict group hierarchy. Instead, they all just yell and snort and squeal until one of them gets their way. There are two yovoki genders, but sometimes even they can't tell the difference between their males and females.[1]
Kills for pleasure, food, and displays of strength
Yovoki wander in small groups of three to six in the mountains and hills.
12
3 points
2
Short
Defends as level 4. Jumps as level 5.
Although yovoki wield simple melee weapons like knives, clubs, and short spears in their chubby hands, they love to attack with poisonous barbs they produce under their tongue and spit out within short range. Those struck by a barb must make a Might defense roll; a failed roll means that for one round, all of a victim's tasks are hindered by two no physical actions (and all mental actions remain hindered by two steps). Lastly, as the paralysis wears off, the victim suffers another round like the first before they can act normally again.
After paralyzing a foe, a yovok bounds forward with surprising agility to finish off the victim up close.
Fast-talking characters might be able to reason with yovoki , but doing so is difficult due to their bloodlust. It might be easier for the PCs to intimidate or frighten them into compliance.
These abhumans are slightly smarter than others and might use numenera devices or hatch simple plots to get what they want - poisoning wells, kidnapping important people, and so on.
Each yovok has a knife, club, or other melle weapon. A group of yovoki has at least one cypher and 1d6 + 10 shins.[2]
One of the places you can encounter yovoki is the underground cavern known as Deep Vormask.[3]
↑

Cook, Monte, et al. "Creatures." Numenera Discovery, Monte Cook Games, LLP, 2018, pp. 261. Numenera. ISBN 978-1-939979-45-2

↑

Cook, Monte, et al. "Creatures." Numenera Discovery, Monte Cook Games, LLP, 2018, pp. 261. Numenera. ISBN 978-1-939979-45-2

↑

Cook, Monte, et al. "Creatures." Numenera Discovery, Monte Cook Games, LLP, 2018, pp. 261. Numenera. ISBN 978-1-939979-45-2