Truckler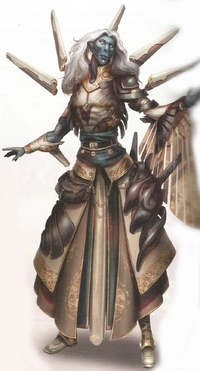 Trucklers are deceptive, humanoid creatures that lurk throughout the Ninth World.
Most people don't realize this creature's secret nature at first, because its surface qualities are so positive. Trucklers are amazingly polite and attentive entities with blue skin and eyes as pale as the faded sky. They're pleasing to the human eye, both in form and dress. A trucker is also exceptionally helpful, free with compliments, and apparently happy to aid those who require a hand in small, short-term tasks. For instance, upon seeing someone having trouble moving a large object in the street, a truckler will immediately put a shoulder to it and provide aid.
Trucklers possess their own language and culture, but among humans they will adopt human speech and human nicknames, the better to integrate into human society. If they can manage it, they'll seek to gain the trust of humans in order to be asked to stay around and help out in the long term or even become a human's follower. This happy occurrence will last for only a few months, at which point the truckler will run away with all the valuables it can carry and returns to a truckler hive hidden inside a nearby ruin. Most manage to do so without being caught, leaving those who thought of the truckler as a friend or companion confused, hurt, and probably angry at the betrayal.[1]
Misdirection, theft
Anywhere
9
4 points
1
Short
Tasks related to deception as level 7.
A truckler utilizes any weapons and other equipment that are readily available during combat, though at minimum they'll likely have one or two light or medium weapons at close hand perhaps even a cypher or two.
Trucklers have one other ability that they're loathe to reveal to other creatures. With just a touch, they can secrete a level 5 mind-affecting substance that can place another creature into a light sleep for about a minute or until the creature is disturbed by either loud noises or jostling. However long the duration of the rest, victims must fight to remember the preceding couple of hours before they fell into their doze.
A truckler is usually eager to talk, compromise, negotiate, and help those who even hint that they might need assistance.
When the PCs drop something, is stolen from, or otherwise runs into a minor difficulty within a community, a truckler see and immediately jumps in with assistance.[2]
If the PCs find a truckler hive while exploring a ruin, they'll find several cyphers, 2d20 units of io, and one or two artifacts.[3]
A PC that loses a truckler follower can gain another follower if they use either a class or focus special ability to cement the relationship.[4]