Travonis Ul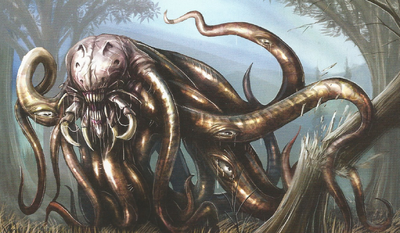 Travonis Ul are tendril-wielding, creatures that hail from somewhere unknown.
A writhing mass of tendrils 15 ft. across and 12 ft. high, a travonis ul is a creature for another world that hunts for any cellular material to consume. Three to five tendrils are particularly long, with bulbous yellow eyes at approximately their midpoint. One broad tentacle has a mouth with several mandibles.
A travonis ul is an intelligent beast, but it's utterly alien to almost everything that dwells within the Ninth World. It doesn't seem to speak, read, or use tools of any kind, but it clearly understands and respects the numenera.
Is it an extraterrestrial or an ultraterrestrial? No one truly knows for certain.[1]
Hungers for flesh or plant material
Anywhere
36
6 points
3
Short
Speed defense as level 5 due to size and speed. If using its mouth, attacks as level 5, inflicting 8 points of damage.
The travonis ul lopes forward to attack in an ungainly fashion, using some of its tendrils as pseudo-pods for locomotion. It flails and grabs at prey, and it also attempts to bite with its terrible mouth (attacking as a level 5 creature and inflicting 8 points of damage). The creature can attack up to ten foes at once (no more than one attack each), as long as they're within short range.
In addition to the damage it inflicts, the touch of the travonis ul causes great pain and disrupts nervous systems. Anyone who's struck by the creature must make a Might defense roll; those who fail, however, are stunned and lose their next turn.
A travonis ul looks upon all other creatures as either food or enemies (or as both).
Travonis ul are some of the most dangerous predators that hunt in the wilderness or in ancient ruins. The alien creatures eat constantly, so when one moves into an area, it quickly depletes the region of flora and fauna. Intelligent inhabitants usually organize resistance or just flee.
If a travonis ul is slain in an area that has intelligent residents, sometimes corpses with valuable can be found within its mass - perhaps 1d100 shin's worth of goods and 1d6 - 1 cyphers.[2]
In the Caecilian Jungle, there's a massive travonis ul twice the size of any other. It's level 10, with 60 health and 4 Armor, and it inflicts 13 points of damage (17 points with its bite, attacking as level 9).[3]
↑

Cook, Monte, et al. "Creatures." Numenera Discovery, Monte Cook Games, LLP, 2018, pp. 257. Numenera. ISBN 978-1-939979-45-2

↑

Cook, Monte, et al. "Creatures." Numenera Discovery, Monte Cook Games, LLP, 2018, pp. 257. Numenera. ISBN 978-1-939979-45-2

↑

Cook, Monte, et al. "Creatures." Numenera Discovery, Monte Cook Games, LLP, 2018, pp. 257. Numenera. ISBN 978-1-939979-45-2