Thon Iridescence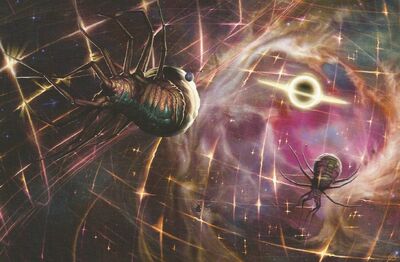 The Thon Iridescence (alternatively referred simply as Thon) is a threaded megastructure that surrounds a black hole.
Thon appears as vast net made from hairline cracks in reality, surrounding the edge of a large black hole. [1]
| | | |
| --- | --- | --- |
| " | Once the Greeter called it to our attention, I saw the remus. Its body was bulbous; its legs were kilometers long, and it used them to move along the glowing threads. Damn me if it wasn't a spider big as a moon. | " |
| | ~ Terha Katrellin, a jack who explores the night | |
Greeters are intelligent constructs that exist within the physical universe as yellow, moon-sized crystals shaped like boxes. They're responsible for warning any and all spacefaring craft and their passengers to stay clear of the Thon Megastructure. Closer inspection on a Greeter's surface reveals the presence of many abandoned starships, varying from new to really old. Any explorers who are able to evade the scanning beam of a Greeter could salvage ancient treasures. If a vessel were to come close enough to one, the tractor field of a Greeter will bring in a vessel towards it for a soft landing, where it's blasted with a scanning beam that shines throughout the ship like sunlight through a crystal.
Any lifeforms that are caught within the beam's rays are destructively scanned and turned into dust. A psychic avatar of the affected entity is created and sent to a psychic realm called a quotum within the Thon Iridescence, created by the Greeter to appear as a pleasant starting point for the new arrivals to enter other constructs. To those from Earth, this staring quotum might appear as a plain of verdant grass under a sunny sky with a reflecting door that leads into Thon's other quotums. With their new bodies, Visitors become virtually invulnerable to any physical harm, except in most of the realms, where injury is allowed, even to a fatal degree. [2]
Whenever any resident dies within a specified realm, they're immediately brought back to life the following day in a location adjacent to realm's exit where they died near, at full health, with only a hazy recollection of what killed them. This unique phenomena is known simply as a "Replay" and is nearly always available to the owner of a realm within Thon. Despite this fact, only a small number of quotums have replay enabled. During the creation process of a quotum, all its avatars determine up front whether or not replay should be an available feature, and many have forgone the option of replaying a quotum, seeing as how it makes existence within their dream world seem hollow and meaningless. However, there also exist rare artifacts, called "replayers" which can revive any slain avatar within any given realm. [3]
Because of how many separate ecologies have been created within the Thon Iridescence's domains, the flora and fauna of this locale would be too lengthy to list. However, the most unique and important entities of note are the ones that reside on the exterior as well as those who can travel between domains.
A remus is a massive spider-like automaton that numbers in the thousands, guarding and repairing the cracks in reality that have been woven into a thread-like megastructure around the black hole of Thon. Each Remus is the size of a tiny moon with legs that are miles in length. They're also outfitted with enough firepower to take on any threat.[4]
Appearing as a cloaked humanoid whose hood contains a lonely starscape, a nepenth deals with any and all domains and quotums that have become damaged for whatever reason. They fix the issue by deleting these realms so that the damage doesn't affect the other psychic constructs of Thon. How they exactly "delete" a realm is by duplicating themselves to such a degree that they cause the dimension to burst. Unfortunately, nepenths don't really concern themselves with whether or not anyone is still inside a damaged realm while they destroy it. They also hold the ability to track down any avatars created within one of the realms, regardless of distance and/or appearance of the latter.[5]
Despite some inhabitants finding Mind Thieves to be a peacekeeping force from the beginning of Thon, whose avatars wear badges displaying promises of peace and tranquility, many see them as pirate bands who steal the consciousnesses of others and search for any abilities, exciting experiences, or any other useful information they can find in them. Not defined by any loom or power, mind thieves are known merely by reputation. Those wearing badges taken from old archives or even derelict quotums might even hold the inborn ability to actually steal another person's mind.[6]
The Residents of the Thon Iridescence span a vast variety of species from across the galaxy and beyond. Despite their different languages, though, thanks to Thon, they all can communicate with and understand one another. Many of the residents have lived in Thon since they were born, they have little to no knowledge of the physical reality that makes up their habitats. Things that are seen by others as miraculous are usually taken for Normal within Thon. Only a few elders, scholars, and visitors from elsewhere know the truth. [7]
The individual realms within the dream-like construct of Thon are endless in number, but the most numerous are composed of 2 categories: Quotums and Domains, each of which contain which levels, with new quotums starting with 2 levels and new domains starting with only 1. The levels a realm possesses increase the longer it's occupied. While some realms can be designed to look smaller than they actually are, the amount of levels a realm has can also determine are large they can grow to be. Level 1 realms start off about a mile in diameter and increase by a margin of 10 km with every new level.
Replay is given to some realms but unavailable for others. Realms also have their own special rules unique to their own environments. Most quotums allow anyone to enter , unless it's been given an impeded entrance (something more common with higher level versions) with which a certain passphrase or key is required, an intellect task would otherwise need to be done. Realms, on the other hand, only allow the entry of their owner, with the exception of unfettered variants. [8]
· Ecatora
· Nemone
· Nestra
· Ranuncul
The realm known as Colabula was originally thought to have been destroyed a long time ago. However, it has since been rediscovered. Inhabited by living creatures of glass with multiple limbs, Colabula is said to hold a substance which can drive any creature of Thon into a state of continual bliss.
The Navigator's Guild of Ecatora always looks for new members to join its ranks, even if only for just one mission into the heart of some newly-discovered quotum that happens to be inhabited by violent automatons. Though they would pay substantially for it.
One of the Greeters has malfunctioned, causing it to randomly cull Thon inhabitants from their avatars and instantiating them in flesh bodies within the physical universe. Most don't react well to this sudden phase shift, especially when the bulk of their knowledge and skills no longer apply. Given that no remus seems inclined to fix this issue, someone else will need to do so before the malfunctioning can get worse.
A vast fleet of sorg battleships proceeds en route to the Thon Iridescence, seeking to mine the threads for their own personal use. They believe they can utilize the threads a s weapons of shredding entire worlds.
Rumors abound of ghosts lurking within the superfices, leading many of Thon's inhabitants to personal domains from the duration. According to any survivors, these apparitions take form in the grey limbo itself and seek to drain all color and form from their victims.
A particular realm of voracious slimes, known as Amorpha in the Navigator's Guild, will ingest visitors, permanently making them part of their realm.
Sometimes, those who are brought back from the dead via replay will not only have their memories restore, but also hold the repressed memories of some utterly alien lifeform.[9]
Thon was originally constructed to serve an alien species of the same name as a kind of "soulbank" where they would keep backups of their minds in case anything were to happen to their physical bodies. A billion years later, Thon has now taken on a more radically active life of its own.[10]
A navigator without any coordinates must succeed on a difficulty 4 Intellect roll in order to find out out what they're looking for, exactly. If they fail, the navigator loses 3 Intellect points and ending up back in the quotum they just recently left. However, if they succeed, assuming no keys or paraphrases are required in the slightest, the the navigator and their companions can appear in any qoutum sought.[11]
Humans are rare within Thon, but those that ended up there eventually discover that the remnants of the Earth's previous worlds actually exist throughout its many quotums.[12]
Quotums manifest cyphers and sometimes even artifacts, usually which are shaped by the realm's theme. For example, a cypher which grants the ability to fly might be found within a mountainscape or skyscape.[13]
Regular quotums often prove to be dangerous or even lethal towards inhabitants, but only unfettered domains put the power of wholesale transformation or deletion of visitors into the hands of a single entity.[14]