Thlipsid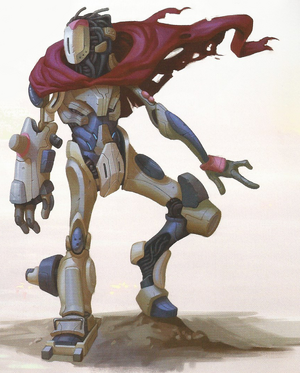 Thlipsids are cyborg humanoids that can control time.
Also known as the hour merchants and moment thieves, thlipsids are few in number and never seem to stay in the same place for long. Thlipsids are sometimes sought and other times hunted, but they're rarely trusted, given that they deal in time stolen from others.
Thlipsids are humanoid, though most seem to be augmented with mechanical limbs and other prostheses without an obvious humanoid equivalent. When entering communities, they don't advertise their differences but instead spin an illusion or hide their true shapes beneath concealing cloaks and masks.
Thlipsids are sometimes sought by wrights looking to find a bit more time to construct their latest project or by the elderly who want a few more days or years to live. However, those looking for thlipsids likely don't get the kind of extra time they imagined..[1]
Trading time
Near and within communities
15
5 points
2
Short; every other round, can move up to three times its normal movement by contracting time
Knowledge of time and temporal engineering as level 8
Though adverse to combat, an hour merchant is quite capable of defending itself with a touch of one of its mechanical prostheses. When it does, space-time collapses and that creature freezes in time for one minute. A creature frozen in time can't act or be acted upon.
Once every other round, a thlipsid can take three actions in one turn as it expands the time it stole for its won benefit.
If an agreement has been reached, an hour merchant will sell time taken from others in the form of a small metallic token. Thereafter, the buyer can choose to take one extra action up to once each day and usually no more than three times in total.
Affable and engaging when encountered inside a bazaar, but threatening if encountered alone with no one to see.
Someone claiming to sell time has appeared in the community market square.
A thlipsid's partly mechanical body could be salvaged for 2d6 shins, a couple of cyphers, and one roll on the Iotum Result Table.[2]
Thlipsids pay about 1 unit of io or 10 shins for every six seconds that they legitimately purchase from a creature, but they charge three times that when they sell the same.
A thlipsid can steal time only from a conscious and sapient creature; it can't just collapse space-time randomly and store the result for later use.[3]
↑

Cook, Monte, et al. "Creatures." Numenera Destiny, Monte Cook Games, LLP, 2018, pp. 279. Numenera. ISBN 978-1-939979-45-2

↑

Cook, Monte, et al. "Creatures." Numenera Destiny, Monte Cook Games, LLP, 2018, pp. 279. Numenera. ISBN 978-1-939979-45-2

↑

Cook, Monte, et al. "Creatures." Numenera Destiny, Monte Cook Games, LLP, 2018, pp. 279. Numenera. ISBN 978-1-939979-45-2