Tetrahydra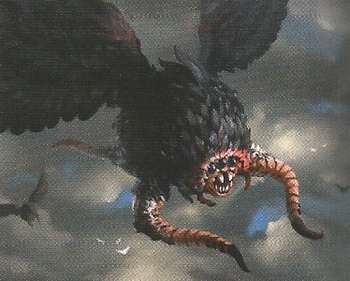 Tetrahydras are flying creatures native to the Ninth World.
These large creatures, approximately 6 ft. tall, look like black-feathered tetrahedrons with beaks and wings. Based on reports from an early Ninth World naturalist, they were believed to be legless. However, tetrahydras have four tentacles that they keep coiled along their lower half. The tentacles uncoil and can be used as feet and weapons.[1]
Protecting their eggs
Anywhere
15
4 points
2
Long while flying; immediate while on the ground
Tetrahydras attack from the air, coming down at perceived enemies quickly, wings folded back for maximum speed. They attack first with one of their four beaks and then with their tentacles, which grip and squeeze prey. Sometimes they attack alone, but more often they attack in groups of three or more.
Tetrahydras fight to protect their eggs, which take two years to hatch and are situated in large nests as high up as the creatures can build them.
Tetrahydras are animals and act like them.
PCs are likely to run afoul of tetrahydras only if they happen to disturb a nest. However, a foe skilled in animal training could have a covey of them that serve as attack beasts.[2]