Synth Eater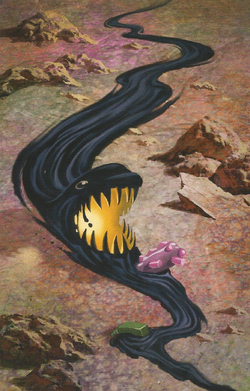 Synth Eaters are slimy creatures that roam the Ninth World.
Pets at best, synth eaters can become can awful affliction once they swarm. These creatures can infest newly uncovered ruins, but they instead prefer freshly built installations, or, even more, those still under construction. Resembling 9 ft. long viscid streams of black sludge with metallic teeth and dead synth eyes, synth eaters slither around or burrow in pods numbering up to 6. Though, loners can also be found infesting small outposts.
Synth eaters quickly decompose the synth that they ingest, leaving behind inert pools of sludge, causing ruins to degrade even further, and scuttling the aspirations of those who seek to salvage there.[1]
Hungers for synth
Anywhere synth can be found, whether it be scrapped or refined
9
4 points
Short; immediate when burrowing.
Perception as level 5 due to scent. Initiative as level 6.
Synth eaters have an incredibly powerful bite, which they use to tear off chunks of synth from debris fields, standing structures, or the casings of strange items. They can attack singly or in groups of four or more, in which case they make one attack as if they were a level 5 creature and can inflict 8 points of damage.
A group of 6 or more synth eaters can spend around a to meld together and become a single creature: a synth eater 20 ft. long with a maw large enough to swallow a human whole. These melds are level 6 creatures that can inflict 10 points of damage. Melds can also make quick work of an installation.
The digested, oily black tar left behind by synth eaters is poisonous to most living creatures. If creatures get any on themselves, they suffer 3 points of damage from the illness and bone-wracking nausea that follows.
Always hungry for more synth, synth eaters only understand the proximity of food sources or obstacles to getting what they want. However, they're bright enough to recognize a threat and adjust their tactics accordingly. They don't appear to have emotions or even feel pain like normal living creatures.
The character's emerging community is suddenly discovered by a nest of slithering synth eaters.[2]
Daylight or even bright light repels them, which is why wrights who've learned better know to brightly illuminate their projects.[3]
↑

Cook, Monte, et al. "Creatures." Numenera Destiny, Monte Cook Games, LLP, 2018, pp. 277. Numenera. ISBN 978-1-939979-45-2

↑

Cook, Monte, et al. "Creatures." Numenera Destiny, Monte Cook Games, LLP, 2018, pp. 277. Numenera. ISBN 978-1-939979-45-2

↑

Cook, Monte, et al. "Creatures." Numenera Destiny, Monte Cook Games, LLP, 2018, pp. 277. Numenera. ISBN 978-1-939979-45-2