Stratharian War Moth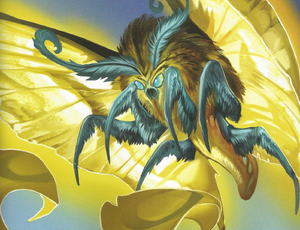 Stratharian War Moths are large, flying insects designed for combat.
Bred for battle in a prior world, these creatures are gigantic moths with pale yellow wings and bodies the color of skulls. Most hold a wingspan of at least 5 ft. When they open their wings wide, they shed a brilliance that withers flesh without harming nonliving objects.[1]
Hungers for battle
Anywhere
6
2 points
Long while flying; immediate while on the ground
Stratharian war moths can swoop in to attack with a bite, but their major offensive power is the flesh-withering light from their wings. The light manifests as a short-range cone of energy that inflicts 4 points of damage to living creatures. Creating this light requires an action, and a moth can use the ability once every other round. If a moth is reduced to 3 heath or less, it flies away.
A Stratharian war moth is immune to any mind-influencing effects.
The war moths think only in terms of battle.
Stratharian war moths make for a dangerous encounter, usually in the wild. However, a wandering pack could come upon a village and terrorize it, keeping people trapped in their homes until help arrives - perhaps in the form of traveling PCs.[2]
"Stratharians" didn't create the war moths, but they were the first to find and make use of the creatures in the early days of the Ninth World. The Stratharians are gone now, destroyed by the very creatures they sought to unleash upon their enemies.
No one really knows the origin or meaning of the word "Stratharian."[3]
↑

Cook, Monte, et al. "Creatures." Numenera Discovery, Monte Cook Games, LLP, 2018, pp. 255. Numenera. ISBN 978-1-939979-45-2

↑

Cook, Monte, et al. "Creatures." Numenera Discovery, Monte Cook Games, LLP, 2018, pp. 255. Numenera. ISBN 978-1-939979-45-2

↑

Cook, Monte, et al. "Creatures." Numenera Discovery, Monte Cook Games, LLP, 2018, pp. 255. Numenera. ISBN 978-1-939979-45-2