Spiny Scishan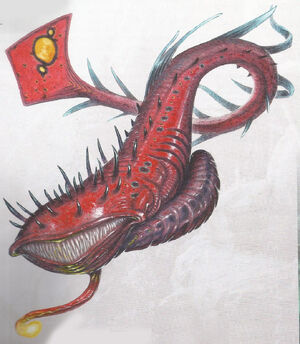 Spiny Scishans are manipulative undersea predators that bury themselves in the bottom of the ocean and mimic beloved items to lure prey.
Rising just above the sand, a flutter of red and gold catches your eye. Is it the fallen flag of your worst enemy? A piece of clothing from a loved one? A delicious and easily caught fish?
The closer you draw, the more certain you are that you know that shape and color, that lucky (or rather unlucky) you: you've fallen into the trap of a spiny scishan, a 4-foot telepathic predator that buries itself either in sand or loose gravel along the sea floor, using its kite-shaped tail to attract prey.[1]
Hungers for flesh
Along sandy or gravel ocean floors
15
5 points
Long in the water
Trickery and deception as level 6.
The spiny scishan lays its trap by burying most of its body in the sand and waiving its tail about. When a creature is within short range, the scishan uses its telepathic abilities to discover an image of something the creature cares about. Then it manipulates its tail to more closely resemble that image, drawing the creature ever closer until it can pounce. It does 5 points of damage with a mouth full of thin, needle-sharp teeth.
Scishans add a bit of weirdness to any underwater encounter, as each player character is likely to see something unique and personal in the kite tail trap.[2]