Silent Nyek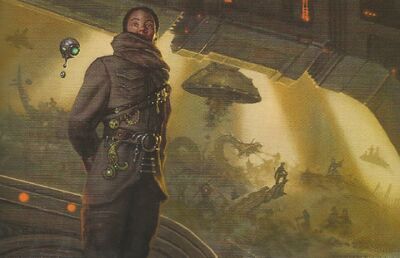 The Silent Nyek is a very large structure that possesses the ability to "drill" right through dimensional boundaries.
While its original builder remains unknown, the Silent Nyek holds every indication, through its design, that its purpose was to drill deep into a specific dimension (or even perhaps parallel dimensions) containing some vast edifice and to retrieve it. However, the vessel was left abandoned long before its current Captain ever found it and renovated its interior. These days, the Nyek is used to find valuable materials like stronglass, cyphers, artifacts, and other potentially important items from adjacent universes. Whenever a large-enough load is retrieved, the Nyek will then travel to various locations throughout the Ninth World (as well as in other parallel worlds) and sell them at what the Captain believes to be a good price.
3 large and hollow augurs projecting from the bottom comprise a large portion of the ship's lower surface while the rest of the vehicle is flat and wide. A large, scooping crane from the top reaches down into the "holes in reality" and retrieves any uncovered valuable from the other side, depositing them into a sealed chamber within the ship known as the Repository. The Nyek is known for also being able to drill into other devices, structures, or any dimensional constructs that it might encounter and retrieve objects from, within, or to use as a tunnel through the freshly-pierced dimension. The crane isn't practice when retrieving any objects from another reality without fully venturing through, and thus things could easily be crushed, broken, or otherwise damaged to some extent.
A series of large, circular connectors situated along the vehicle's dorsal side, known as u invents, somehow provide propulsion for the Silent Nyek, and work in conjunction with its drills. Somehow, reality is able to be sucked from one end and then pushed out the other. This process proceeds to push the ship in 3 dimensions , thus simulating a sort of flight. An outside onlooker won't normally notice anything unusual, other than a strange pinching at the base of its spine while the craft is moving, a feeling some people would get while looking down from a very tall structure. Despite its overall odd shape, the Silent Nyek is actually very agile within any open medium, due to its translucent, malleable membrane that covers its exterior and generates a hydrodynamic surface. Its crew, known as winnows, inhabit the shuddering, hollow drills, living along the spiraling levels, with the topmost and spacious usually being the most sought after, above the drills lay the higher crew such as the Captain, her first mate, as well as the ship's only doctor, Comule.
The Nyek returns to the Ninth World at least 3-4 times a year, sometimes alternating between resting like a sea vessel off the coast of Kaparin to the West or in the same manner for Arkall to the East. It's at this time that the Nyek will welcome new passengers aboard, offload interesting finds, and stock up for upcoming expeditions, Also, Kinnol would be on the prowl for new winnows to ensnare, regardless of legality or consent, to replace those that were lost during previous trips into dangerous realms.
Payment for passengers' quarters will depend highly on how available they are at the moment. how willing the passenger, in particular, is with being located near one of the univents (which would be noisy and even make the inhabitant prone to any dimensional mishaps to occur), or even if the passenger(s) can strike a bargain with the Captain herself. Usually, fares will start at around 20 shins per week. The fee includes a room, which up to 6 people can stay in (though not that amount recommended). Payment is made up front , unless a trustworthy response can be made as to why not.
The vessel can be encountered in other dimensions, though its easier to find it in this case while it remains stationed in a particular spot, drilling itself into an adjacent place. One might be daring enough to try and sneak aboard, but passage could also be negotiated.
Lastly, the ship is in fresh need of above-drill crew members who can fit various roles aboard the ship. However, it should be noted that the Captain herself oversees these hiring and holds exceptionally high standards for those brought up as her crew. Potential candidates would need to demonstrate high level of competency in at least 2 tasks related to the care and maintenance of the ship.[1]
Any and all paying passengers aboard the Silent Nyek will stay in temporary quarters located above the drills during their voyage. Many of these clientele consist of researchers, Aeon Priests, numenera hunters, or even a combination of all 3. However, at least a few or more creatures have also come aboard from alternate dimensions. Every passenger rides the Nyek usually in the hopes of discovering something wonderful or unique in what ever is drilled from other dimensions, some even pay to live permanently on board since the contents of the Repository constantly change and, as such, so do the chances of uncovering a rare jackpot.
Accommodations for the passengers tend to be fairly comfortable. When not searching throughout the Repository, they find other pursuits such as secondary hobbies to occupy their attention. Popular hobbies usually include reading, sculpting or painting, performing either music or drama, sleeping, experimenting on who knows what, or just simply drinking. Several passengers might sometimes take part in group device repair sessions within the common room, while others may keep to themselves and never leave their rooms. Most happen to be social, however. One f the tong-time passengers included, named Gerah, holds a talent for combining scavenged objects with odds and ends to create comfortable, long-lasting furniture. Another would have to be Morabai, who scavenges hues and dyes to create wondrous murals for both passenger as well as crew cabins upon request.[2]
All of the workers on board the Nyek are called winnows. Little does the captain know that many of their number are being held captive, having been stolen away from their families (usually from the city of Kaparin)and then forced to work for no pay and with minimum nourishment. Others were promised living wages and even good jobs, but never received such things. Conditions tend to be wretched for crew members and its unsurprising to see high death rates among them.much of the profit will end up in Kinnol's pocket anyway, as well as those of the crew on board that assist with the racket, and especially those that Kinnol secretly associates with in Kaparin. Since Kinnol is the captain's usual go-between, Shedreyn herself is completely unaware of these scheme and prides herself on captaining a clean, beyond-average ship.
Due to the shared circumstances of the crew, strong bonds have been forged between members and conditions below the drills have rapidly developed. They tattoo to show solidarity, sing to get through the harder shifts, utilizing special words and phrases so that onlookers can't understand their conversations, and even perform dangerous stunt dives from the top of the hollow drills all the way to the bottom just to demonstrate some control in a life otherwise devoid of it. The aforementioned dives are usually responsible for about a quarter of winnow deaths. Those that die are claimed to have "escaped", those who live are revered as heroes.
There are also winnows who reside within the stern drill who call themselves "sterners". These winnows hold themselves as far superior above the other winnows and don't solidarity with the rest. Kinnol's paying overseers actually encourage this kind of attitude, since his operation would easily crumble with all of them united. So as a result, sterners will be granted extra rations, water, and even clothing. While not enough to be really comfortable, it is enough to draw the envy of other winnows. The sterners are led by two brothers who've spent their entire lives in service to the Silent Nyek, Azand and Ajorm. While the former believes Kinnol, the latter holds doubts.
About 5 overseers watch over the winnows in each drill. The overseers tend to not be crew but instead any winnows that were "promoted." Winnow that are unwilling to take such a promotion often tend to disappear. Regardless, these overseers are usually detested by their former comrades. The most reviled of their number happens to be a man named Tgon. Considered to be a master of the whip, Tgon will delight in using it on recalcitrant winnows.[3]
Captain Stav Shedreyn bears a tall, muscular frame and dresses in simple black pantsuit that's hung with different tools and instruments. She will rarely reveal the lower half of her face; stead preferring to wrap both her head and jaw in dark, flowing fabrics. Considered to be terse, driven and very intense, the captain is usually adored by her crew, though also feared and despised by the small portion that don't meet her expectations. While a tad naive, Captain Shedreyn is a good leader but is also completely unaware of the business her assistant, Kinnol, is actually running. After all, the passengers' money doesn't always go to the maintenance of either the crew, or even the ship for that matter.[4]
First mate for the Captain for around a dozen years, Kinnol is a lattimor with burnt amber fur that's draped over maroon cloaks. Despite his broad shoulders and otherwise heavy build, his movements will always seem a bit shifty. Kinnol has secretly enslaved the crew through a variety of tactics as part of an elaborate scheme that's based upon the expectations his superior holds the ship and its crew within.[5]
An Aeon Priest Doctor who rides aboard the Nyek as a passenger, Comule doesn't usually talk much with the crew and instead prefers to be alone. He displays a love for the color purple through both his hair and apparel. When he isn't tending to the needs of the crew, he can often be found smoking a special pipe he found from the Repository while in this quarters. The pipe, in question, hails from the Unfettered Range and will refill itself once per hour via a pungent leaf that's suitable for smoking. The only one currently aware of this particular habit is another eccentric passenger named Cidene, who believes the smoke emitted to actually be a dangerous threat to the ship and everyone on it.Like the captain, Comule is completely unaware of the crew's true situation.[6]
Another paying passenger, Radardvor is a female Thexx from the realm of Panaton who came aboard only a few years prior. While on board, she's become a strong advocate for the rights of her fellow passengers. Aware of the true state of affairs for the winnows, she still has yet to realize how much of a secret it really is. Shadowing, the Captain as much as possible, Radardvor, inquires Shedreyn about how exactly the Silent Nyek can burrow into other dimensions. Her eccentricities and charming personality have made her tolerable among passenger and crewman alike, all, except Kinnol, who suspects that she might secretly be planning to steal the vessel for herself. [7]
A passenger who's taken up residence in one of the quarters but has yet to leave, Cidene pays for his stay through the defense he provides for the Nyek during its travels. Whenever the Nyek is in danger, Cidene will rely upon his trusted battle armor and disruption blade artifacts to get the situation under control. While some might believe it's due to an requited love he has for the Captain, in truth, however, Cidene protects the Nyek because of a message from the datasphere that claimed the vessel in particular would be highly instrumental in protecting the Ninth World from invaders from an alternate dimension.[8]
A former winnow who manage to escape and who has recently returned undercover as one of the passengers, Ustastos always wears a hat, goggles, and warps herself in grey fabrics whenever departing from her quarters. This causes some of the passengers to believe that she was horribly scarred in some way and, thus, give her some distance. While on board, she's already managed to free over a dozen winnows, despite her larger task of inciting an uprising among the winnows to end Kinnol's insidious reign of forced servitude.[9]
A young man by the name of Ruthin operates a small shop onboard the Nyek. It's carried around with him via a large, wheeled carryall that he controls with a belt-mounted module. He can supply basic needs, such as toiletries, gloves, among other tools for sifting through piles from the Repository, small flasks of alcohol (semi-contraband, since there's apparently an unspoken rule that nobody really follows), and even pain relievers. His prices usually seem reasonable, that is, until supplies are low in stock. Those who are aware of life on the Nyek will tend to purchase as much as they can carry at the beginning of the voyage, which typically means prices will have risen instantly. Beyond that, a rich black market will remain.[10]
Approximately several dozen rooms are considered available for any passengers, about half of which are usually taken. Each room will have 4 beds but little else.[11]
The common room contains all sorts of books, games, and several other broken devices in varying states of repair. Often times, the passengers would have to work together to fix the devices after dinner, sort of like a group puzzle. More than one squabble has usually resulted during these sessions between passengers. Things got so out of control that the captain herself had to recently hire a bouncer named Bonik. Despite her small size and quiet voice, Bonik happens to be very strong and even hosts a cellular disruptor along her belt.[12]
The control room's primary feature is the large screen that displays both the position and speed of the Nyek's univents. A large box covered in knobs and dials operates the fans. All members of the crew that work above the drills require training in the control and maintenance of the univents. Controls for the drills, crane, as well as other important ship functions can also be found here. Interesting of note is the window the control room has to view the Repository.[13]
The floor located underneath the univents is roughly tall enough for people to crawl threw. Sometime, crew member will stash cyphers, artifacts, and any other valuable items confined within this space. Any winnows who happen to escape will also often hide here.[14]
Metals, electronic scraps, debris, and other kinds of treasures collected from various realities are piled up in the Repository. Despite being dirty, dank, and poorly lit, the passengers will tend to spend a bunch of time here, searching throughout the piles, though usually for a certain fee.[15]
The rear entrance is tucked way behind piles of valuable materials, piles that take up vast amounts of the Repository. It remains under Kinnol's control and has been forgotten by the rest of the crew. Kinnol uses it to bring winnows and bodies out. It's constructed from a special, permeable metal that allows living things to pass through it whenever coated with a substance known as syldane. It can only be made from a secret recipe concocted by Kinnol.[16]
Lying beneath the floor of the Silent Nyek are 3 large, hollow drills that are capable of drilling right through the fabric of reality, allowing objects of any interest to be scooped out via crane, or even for the entire vessel to enter through to another dimension. The winnows also work and reside here. Each drill possesses a single trap door that allows entry from the main floor of the Nyek, each guarded along the drill side by a key-coded automaton. Kinnol controls these machines and is the only who holds a key code.[17]
Considered comfortable by all accounts, these luxurious quarters hold wide windows made with stronglass to allow the crew to see into the dimension that they're infiltrating.[18]
The Nyek's supply room is filled with regular supplies, a greenhouse, and even a large fish tank. The tank itself holds a special type of snail that breeds quickly holds great nutritional value. These fist-sized creatures will be served in nearly every drink and meal on the ship. The large kitchen area also happens to be where Comule will perform any emergency medical procedures, utilizing a tall device that the doctor fabricated, and would be continually fine-tuning.[19]
The main entrance tot eh Silent Nyek is composed of a pair of double doors along the vessel's side. It can deploy a long ramp from a control pad so that, whenever the vessel settles on either land or water, materials and passengers alike can then be easily transferred.[20]
One of the Silent Nyek's long-term passengers is said to be the only remaining heir of Kaldon, a former sovereign of Thaemor. However, everyone from Thaemor has long believed that a virus had claimed the last heir.
There's an odd sound that emanates from one of the quarters, lying somewhere between a growl and a wail. Crew members believe the room is haunted, and that the passenger who previously rented it has been absent for quite some time. The captain is willing to reward anyone who enters the room and solves the mystery of the noise.
In some empty quarters near one of the univents, a purple-blue fungus spreads across the walls. It appears to be spelling out words in the Truth, although it's growing so slowly that only a few have proven recognizable thus far.
On occasion, another dimension-drilling craft can be seen from the distance with a shape very similar to the Silent Nyek's, even possessing its own including 3 drills. However, the version will glow red and appear to be crewed instead by humanoid creatures wielding tentacles where arms would normally reside.[21]
The Silent Nyek does have the ability to hover about in the air like a massive balloon, but the Captain prefers to avoid such a spectacle and would rather park the vessel on the water to give the impression of a sea-faring ship, whenever stationed within the Ninth World.[22]
The Silent Nyek is named after the bellowing nyek, a behemoth, amphibian monster with a long, serpentine tail.[23]