Scrow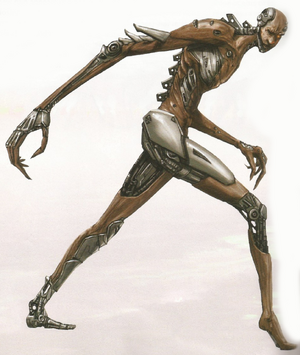 Scrow are are size-changing scavengers native to the Ninth World.
Residing within cities by hiding inside water droplets, scrow have escaped notice for who knows how many thousands or millions of years. Only recently have they begun to return to the world - or at least the scale - in which they may have originally lived. Their appearance is somewhat humanoid, despite elongated proportions, slick flesh, and odd devices studded throughout their bodies.
Scrow have an interest in ruins and seem intent on scavenging them for parts, iotum, and information, usually working on one ruin at a time before moving on to another. Presumably, scrow who transition to human scale bring their entire worlds with them in some kind of storage device, though the specifics are still unknown.[1]
Defense, salvage
Prior word ruins, in groups of either two or three
20
6 points
1
Short; can "disappear" by returning to microscopic scale as an action
Tasks related to understanding, salvaging, and crafting numenera as level 7.
Scrow rely on long-range energy ray weapons. Most scrow on expeditions also carry at least one scalar detonation, which are like level 8 cypher-like devices that can be tossed up to a short range and affect all creatures within immediate range. The detonation randomly change's a target's scale, but not uniformly or consistently, which damages their bodies, inflicting 8 points of damage that ignore Armor.
If communication can be established, scrow may cooperate explorers. However, scrow tend to see other salvagers as competition for the parts they need to bring back to their own miniscule cities that are beginning to fail after who knows how many millennia.
A new ruin appears in a destructive blast (the result of a scrow losing its machines that anchored it to the microscopic scale). Maddened horrifically wounded, and dead scrow are everywhere.
Scrow equipment can be salvaged for two or three cyphers.[2]
Scrow are aware of other entities able to transition scales, but they go out of their way to avoid all such creatures. If a scrow city were to fail, it would probably return to human scale in a catastrophic size change.[3]
↑

Cook, Monte, et al. "Creatures." Numenera Destiny, Monte Cook Games, LLP, 2018, pp. 274. Numenera. ISBN 978-1-939979-45-2

↑

Cook, Monte, et al. "Creatures." Numenera Destiny, Monte Cook Games, LLP, 2018, pp. 274. Numenera. ISBN 978-1-939979-45-2

↑

Cook, Monte, et al. "Creatures." Numenera Destiny, Monte Cook Games, LLP, 2018, pp. 274. Numenera. ISBN 978-1-939979-45-2