Sathosh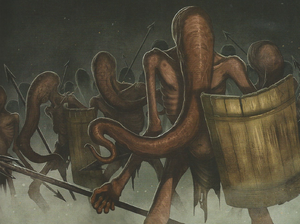 Sathosh are tentacle-faced abhumans that communicate on a subsonic level and feed on blood.
Sathosh are gaunt abhumans that have a long tentacle writhing from where their faces should be. They're silent, and they see and communicate via subsonic pulses they emit almost constantly. It's perhaps easier to think of them as having hyper-acute hearing and a sort of sonar.
Sathosh are also communal creatures, thriving on the presence of others of their kind and living without any type of hierarchy. They're kind and loving to one another but hateful and cruel to all other lifeforms.[1]
Hungers for blood
Sathosh dwell in packs of at least s6 - usually closer to 12 - anywhere but the coldest climates.
9
3 points
Short
Speed defense as level 6
A swarm of four sathosh can attack a single foe in melee, making one level 5 attack that inflicts 6 points of damage. Further, two sathosh next to each other can join their minds in communion and launch a mental attack on one target at short range; it inflicts 6 points of Intellect damage and ignores Armor.
Sathosh feed on the blood of creatures they slay, absorbing it through their tentacle.
Without some kind of subsonic device or mental powers, it's impossible to speak to or understand sathosh.
A local farmer reports that a strange creature has invaded his hay barn.
Each sathosh is likely to have a light or medium weapon - a knife, a sword, a spear, a dart thrower, and so on. A sathosh lair has 1d100 shins, other miscellaneous gear or goods, and probably an oddity or two.[2]