Riven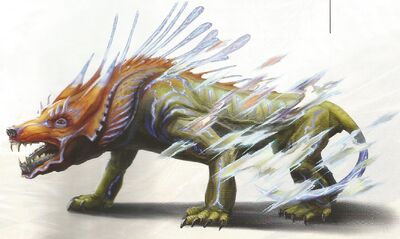 Riven are ultraterrestrial, creatures from parallel dimensions.
Riven are echoes of creatures that perished in timelines extinguished by disaster. So in a way, they're like ghosts, but ghosts that physically haunt parallel worlds after there own world is no more. They sometimes resemble blurred images of familiar creatures, such as seskii, though in most cases the bodies appear more skeletal and often glimmer with transdimensional energies. Riven act as if always threatened, and constantly lash out, or run from, everything and everyone around them.[1]
Destruction
Almost anywhere
6
4 points
Short
Defense as level 5 due to transdimensional skipping.
A riven's exposure to transdimensional energies that caused its change benefits it in combat, because it's hard to predict exactly where a riven will be from moment to moment. Riven attack with ferocity of the crazed and the desperate. When they're encountered, together, 4 of them can concentrate on one foe and make one attack as if they were a level 4 creature, inflicting 8 points of damage. Each riven must still be attacked individually, as normal. If their numbers are reduced to fewer than 4, they retreat into a parallel dimension. Attempting to follow a fleeing riven could strand a character in an alternate reality, or forcefully knock them back into their own reality when the riven returns to a dimension that no longer exists.
If a tooth of a bestial riven breaks off in the attacked PCs skin during combat, until removed (a Might action) the character suffers one point of damage per round.
These desperate, crazed entities understand only destruction and fear. They can't be reasoned with or calmed, not even those that look like humans or other intelligent beings.
After PCs visit what appears to be a dying parallel dimension, or view one through an artifact, they're attacked by a riven that bears an uncanny resemblance to them.
Riven that appear bestial never carry any loot, but those that resemble warped versions of humans may carry some shins and possibly a cypher.[2]
What's so powerful that it can extinguish whole dimensions? Possibilities include runaway processes that are beyond the creator's original intent, weapons wielded by god-like beings, and certain classes of predator that operate many magnitudes higher along the food chain that normal creatures.[3]
↑

Cordell, Bruce. "Ultraterrestrials." Into the Outside, Monte Cook Games, LLP, 2018, pp. 153. Numenera. ISBN 978-1-939979-47-6

↑

Cordell, Bruce. "Ultraterrestrials." Into the Outside, Monte Cook Games, LLP, 2018, pp. 153. Numenera. ISBN 978-1-939979-47-6

↑

Cordell, Bruce. "Ultraterrestrials." Into the Outside, Monte Cook Games, LLP, 2018, pp. 153. Numenera. ISBN 978-1-939979-47-6