Perelande
Perelande is a mostly aquatic planet with a shattered crust covered in organic material.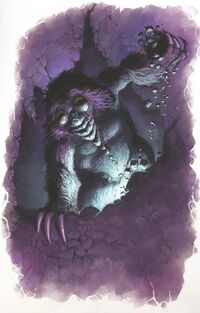 Wedoth appear to be short, hairy creatures that are generally peaceful, and quiet, and retiring. Their large claws are appropriate for digging, and wedoth use them to break through the crust when need be or burrow into their islands to make their homes. Although they don't normally wear any clothing and rarely hold weapons or accessories, they can still be quite adept at manipulating specialized tools with their mouths (as their claws could never suffice).[5]
The etteramerith are tall, thin humanoid lifeforms with bright red skin and fin-like crests atop their craniums. Many explorers from the Ninth World have noticed their large resemblance with the Varjellen, making many wonder if Perelande was actually their original homeworld and the etteramerith simply their long-lost cousins. However, just as the varjellen don't come from Earth, neither do the etteramerith actually come from Perelande. Aeons ago, their ancestors were a starfaring race who traveled around and colonized wherever they went. But something unimaginable happened, something never to be recorded, that stranded them onto Perelande. It's possible that the same thing also occurred for the varjellen people's ancestors back on Earth.
Similar to the varjellen, the etteramerith can also alter their metabolisms as well as their internal systems. However, they do so only whenever they need to make themselves more physically strong, faster, or even more durable. While they rarely wear armor, they still use spears, bows, javelins, and knives with great prowess, preferring ranged weapons that are also excellent in melee situations. Traveling on foot, the etteramerith hunt and gather amid the crusted seafields ( unlike the varjellen, they can actually digest meat). They rarely ever have any numenera on them, although some collectives have stumbled upon the remnants of the past and fully adopted them for use.
The etteramerith have their own language, which is entirely sign-based. They live in autonomous collectives that usually lack any specific leaders. The commerce done with them is almost exclusively barter. A significant aspect of etteramerith life, however, is their art. Fields like painting, sculpting, and music heavily dominatetheir society and are prized more than anything else.
While most explorers are like to find the etteramerith aloof and cold, if a varjellen is seen with them, the etteramerith will be very curious, and perhaps a little in awe.[6]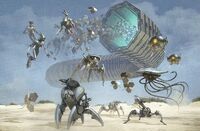 The wedoth from Clan Graekel want to establish communication with the cromulek, bit if they were to discover the existence of explorers from another world, they would much rather offer to pay them to entreat with the mechanical beings than to do it themselves.
The etteramerith want to combat the cromulek and either drive them away or destroy them altogether. Is their any weakness they might have? Are there better options than using spear or bows to fight them? Any knowledge or resources would be greatly rewarded by the etteramerith.
The cromulek are like to find someone to inform them all about Perelande as well as the rest of the universe. First, however, one would have to instruct and persuade them to go silent so that a conversation could take place. Able diplomats might convince them that peaceful coexistence is the best option. In any event, cromulek allies would prove an abundantly valuable resource for cyphers, artifacts, and more.
During one of the sudden tube extrusions into Perelande, very large objects fell into the crust, broke through it, and sank into the sea. Is it possible that these are the machines that also direct and control the tubes, or something else entirely?
Upon an island that the etteramerith call Thrinniala, an ancient ruin of metal and glass lurks amid trees and other growth. Anyone who visits said ruin instantly gains a bit of knowledge that may or may not be of interest to them presently, but that always becomes vital at some point within the future.
Wedoth tales speak of a fourth intelligent species native to Perelande, living beneath the crust. This vicious, predatory aquatic race isn't humanoid - instead they resemble gigantic, intelligent fish with psychic ability to steal knowledge from others and even rewrite their memories.[8]
Both etteramerith and wedoth alike have within their languages the concept of a lunar month, a period of time spanning about 15 Perelande days. This is significant because the world actually lack any natural satellite. [9]
The difficulty of interactions with the etteramerith may be increased by one step, but, interestingly, whenever a varjellen is involved, this penalty instead becomes an asset, thus reducing the difficulty by one step.[10]