Ecatora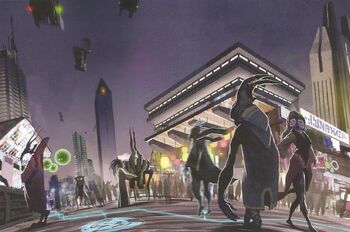 Ecatora is a level 4 Quotum-based, psychic realm within the Thon Iridescence.
Arguably one of the more well-known, as well as well-populated, realms of Thon, Ecatora is a metropolis built as though floating along the exterior surface of some fat torus, levitating over a real-time image of Thon's own black hole. compared to vast nothingness "underneath" it, Ecatora is a bustling city of swirling lights, color, and motion. Inhabitants are unable to fall off of the torus because of the realm's normal gravity, instead, they travel around the diameter of the fat ring itself. The city's exit is located at where the torus' otherwise hollow center would be. As such, traffic is the thickest within this region.
The inhabitants of Ecatora are beyond diverse, ranging from silvery insects wearing flowers, to triple-faced women with triple halos, to floating, green bubbles that talk, to even frog-like hoppers with tentacle hair. They all tend to travel by means of glistening energy lines which crisscross along the ground. If traveled upon purposeful, the "side-line" will instantly transport someone to another part of Ecatora. However, to avoid ending up at pre-configured destinations, others may take flying, whorled cabs.
Aside from its astounding architecture. The city is best known for its markets, which always have something new for their patrons. Because of just how large Thon really is, only a literal fraction of what's sellible is on display at any one time.[1]
The Njevarard Sect, also known simply as the Sect, is one of the largest conflagration of criminals within the Thon Irdidescence. Named after its founder, the sect primarily specializes in femto theft, kidnapping, or even the smuggling of illegal goods and selling them for a price. Luckily, the sect never chooses to perform mind thievery, due to the risk it poses not just to Njevarard and her sect, but also to Ecatora itself.
Njevarard herself resembles a bipedal, furred creature with 2 serpentine arms. She has no visible head and adorns herself with shimmering, golden robes, usually accompanied by her circling clouds of singing insects.[2]
A Judge named Kazinoyo presides over the court of Ecatora, dealing mainly in trade disputes between rival vendors, though he'll usually pass these court cases down to his hundreds of under-judges. Anything illegal and transpires within Ecatora is arbitrated by him personally, though his leniency may be dependent on entertained he is of the case.
Whenever acting in full capacity, the Judge is accompanied by a small fleet look-alikes. Kazinoyo himself resembles a bundle of rope-like tendrils that are studded with eyes. He wears a shimmering crown as his badge of office.[3]
Led by Merte Vardhet, the Navigator's guild is in charge of exploring all of Thon. Those who are given leave to venture off are usually charged by Merte herself to return to their base in Ecatora with any unique or novel items that they've encountered during their travels. Merte, the personal financier of the guild's many expeditions, resembles a hairless lioness with tangerine skin and prehensile tendrils in place of a mane.[4]