Crystal Ship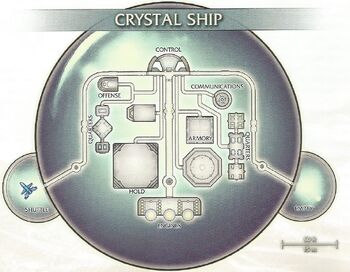 The Crystal Ship is an advanced vessel from a prior-world civilization used to traverse through different dimensions.
The Order of Truth speculates that at least one prior world civilization had been built upon trade between alternate realities with a fleet of dimension-sailing craft, some of which may be lost in said universes, while others could simply have broken down and eroded dust over vast expanses of time. But a few craft do still remain buried beneath the earth, held inside ancient ruins, submerged beneath the water, baking in the desert heat, or even sometimes fading into the dimension next door.
Of these vessels is the Crystal Ship. At first, it was thought that when it traveled, it was moving into the void beyond the edge of the world. Strange locations might well have been other worlds near Earth, or completely far from it. But that was eventually proven wrong, because some of these location were oddly distorted, parallel versions of a familiar world. Speculations then turned to the idea of interdimensional travel. Like a conventional craft, the Crystal Ship must "launch" from its current position, which will require at least some movement, though it shouldn't have to travel before transitioning into another dimension.
Since most methods of travel between dimensions will use either fixed gates, devices that open said gates, or even abilities that open fixed gates, the ability to bring an entire vehicle along with the traveler into an alternate universe is quite useful, especially because many dimensions are exceedingly dangerous if not outright lethal. A vehicle allows dimension walkers to stay within an envelope of breathable air, survivable temperature and, in any extreme cases, comprehensible cosmic laws. Special engines propel the vessel across dimensional boundaries in relatively short periods of time - sometimes in just a few minutes or hours (though to reach the bizarre dimensions, transitions can usually take several days). During this period, all exterior screens will display a pale grey nothingness. To leave a ship during the transition is to be thrown into a dimension and suffer a Transdimensional Mishap.
From the exterior, the Crystal Ship appears to be a yellow, sapphire-hued translucent sphere 250 ft. in diameter. It seems completely solid. Floating circular rings extend from the ship while in operation. the exterior surface is studded with smaller, convex protrusions, each of which are about 50 ft. in diameter.

Touching the exterior at any point will bring up odd controls made from light. Accessing these controls (unless they happen to be "locked" from within) will transport a would-be dimension walker inside the ship.[1]
This compartment, aside from controlling the ship's internal environment (air, gravity, and temperature) allows PCs to navigate between dimensions. A pilot who sits at the controls is provided with a "map of nearby dimensions" that hurts to stare at for too long. It pretty much resembles a web of interconnected dimensional boundaries, difficult for a human brain to visualize without getting a migraine. But someone with knowledge of the dimensions can utilize the controls and map to make a transition to other realms.
Care, however, should be taken, that way the pilot doesn't steer the ship so far afield, transdimensionally speaking, that it would become impossible to return. Generally, the engines can generate potential for only one transition between dimensions every 10 hours. [2]
This compartment allows characters to view the area immediately outside the vicinity of the vessel and, if necessary fire at incoming threats. The Crystal Ship's weapon is a level 6 device capable of firing bolts of transdimensional energy for up to 3 miles, inflicting 12 points of damage in an immediate radius.[3]
This compartment contains several ranks of crystalline containment pillars, each of which contain a whirling existence unto itself. These holes in space power the ship. Manipulating the solid light controls to adjust the engines is a difficulty 6 Intellect task. Briefly souping up the engines to allow more than one dimensional transition in a 10 hour period is one reason why characters might wish to adjust the engines.[4]
One of the convex pods visible along the Crystal Ship's exterior containing the Blue Voyager, a secondary craft designed to move through space and dimensional boundaries, like a smaller version of the structure from which it emanates. While the Blue Voyager can travel overland, it also can serve as an emergency escape pod. (the convex pod opposite of the Blue Voyager is empty, though signs indicate it may have once housed a second Blue Voyager within, at one point.)[5]
This compartment contains a variety of level 5 long-range energy weapons known as dimension blazers.[6]
This chamber contains a device that allows for telepathic communication with one person within 100 miles, or within another dimension if the device was use to contact that person. In general, communicating across dimensional boundary is a difficulty 7 Intellect task.[7]
This chamber contains beds, chairs, and tables. However, food, water, and other comforts will need to be brought aboard and separately, unless previous passengers in the Crystal Ship left such things behind.[8]
This large area can be used to store a ton of supplies. It can also be filled or vacated (depending on the purpose) by using the controls like those used to enter the craft. It's possible that previous travelers who used the ship stored one or two dangerous creatures on board in stasis, however.[9]