Calram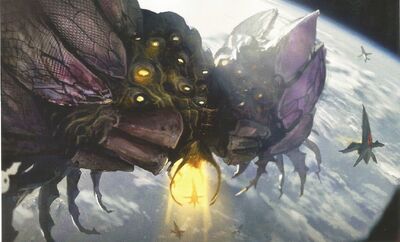 Calram is an alien structure orbiting the Ninth World. It is the birthplace of the calramites.
About 8 km in diameter and covered in jagged spikes, curling tendrils, and weapon-like protuberances, the alien structure of Calram circles tightly around the Ninth World Earth. Technorganic in nature, Calram houses an interior filled with creatures locked away for years at a time in cryogenic slumber pods. Most of the so-called "calramites" will awaken once every 7 years at a time to either observe the world below, socialize, or even take part in other strange rituals that lie beyond human understanding. A few may never sleep at all while some groups will actually wake up according to a different calendric system.
Because Calram will sometimes openly send embassies to them, alongside secret expeditions mounted in other parts of the planet, the Order of Truth is well-aware of their existence. Suspecting that they might be insane, the Aeon Priesthood nevertheless acknowledges how advanced and otherwise "tech-savy" the calramites appear more so than humans currently are on Earth. [1]
A group of Aeon Priests on Earth has become aware of Calram after a priest that was abducted but then later returned by the Dissenters regained shards of her memory about her experience within the testing arena.
A native of Calram named Ardolana left the habitat inside a pod vehicle and went down to Earth without eave. IT's not quite clear what she plans to do, but her companions swear that she doesn't intend to compromise Calram - Ardolana just doesn't want to live out her existence within cryo-suspension , waiting for some future change that may never occur. However, the defection is one thing that the Seven and the Dissenters agree can't be allowed to stand, and thus they've dispatched hunters to retrieve her or, if all else fails, eliminate her.
The Seven are excited about some event that hasn't existed in the memory of any living calramite. Rumor has it that a particular human on Earth is showing signs of being "the one." Pod ships have already been deployed to collect said individual; however, it's quite possible that the Dissenters have commandeered a few pods of their own, possibly in an attempt to eliminate the target.
Some calramites wake up from cryo-suspended animation and claim to have dreamed of blood-red worms chewing through their bodies, eating real tissue and leaving behind duplicate material in its place.
In the wake of one of Mozck's experiments, an ivory sculpture of a beautiful human male was found. Apparently crafted from a strange combination of synth and human bone, the sculpture will sometimes activate for unknown purposes. It has a way of showing up in the possession of seemingly randomly selected calramites, much to both their surprise and worry.[4]
Calram natives are usually referred to as calramites. If they do have another species name, they have yet to reveal it. [5]
While the calramites might be able to eliminate a particular mozck automaton that's infiltrated their home, inevitably, the Mozck intelligence will simply appear elsewhere in the structure inside another machine. [6]