Alioptor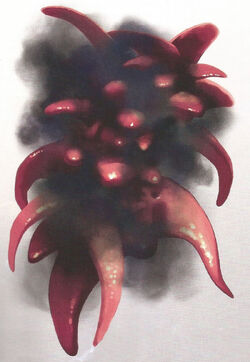 Alioptors are floating masses of tongues and mouths native to the Gloaming. They reproduce by injecting creatures with their larvae.
Like a horrific cloud of writhing, undulating tongues, alioptors sweep out of the cover of shadows to attack their prey. These creatures fly through unknown means of literally negating gravity in a precisely controlled manner. They're, in fact, colonies of many organisms fused together.[1]
Hungers for flesh and seeks to reproduce
The Gloaming
30
6 points
1
Long (flies)
Stealth as level 7; Speed defense as level 5 due to size.
Alioptors can attack all within immediate range through their barbed tongues. Creatures struck by either of the tongues must make an immediate Might defense roll or be pulled into the mass of tongues and toothless maws and be held there.Victims held in this way suffer 6 points of damage each round if they're unable to break free, although a new attempt is allowed each round. Captured victims must also make a Might defense roll or be injected with alioptor larvae. The larvae live and grow beneath the victims flesh for about a week, at which time they move to the tongue and cause it to swell. Eventually the victim begins to choke, and each hour must make a Might defense roll or move one step down the damage track. After six hours, the victim's tongue ruptures, and tiny alioptors squirm out. The rupture will move the victim down one step on the damage track. If the victim dies, the alioptors will feast on the corpse before joining together into a single mass.
The alioptor is a near-mindless creature that can't be reasoned with.
An intelligent native in a small town was killed, and a new alioptor emerged from the corpse. Now the residents of said town are intent on find and destroying the thing before it can claim another victim )and produce yet another of its kind).[2]
The hideous effect of the alioptor larvae holds true for humanoids and especially humans. The process might take on a different form inside of a different creature[3]
↑

Cook, Monte, et al. "Creatures." Into the Night, Monte Cook Games, LLP, 2018, pp. 143. Numenera. ISBN 978-1-939979-40-7

↑

Cook, Monte, et al. "Creatures." Into the Night, Monte Cook Games, LLP, 2018, pp. 143. Numenera. ISBN 978-1-939979-40-7

↑

Cook, Monte, et al. "Creatures." Into the Night, Monte Cook Games, LLP, 2018, pp. 143. Numenera. ISBN 978-1-939979-40-7